The Answers You Need
Whether it's an auditor, rating agency, investor, or your own internal people, someone is always asking you for information about your business. Satisfying those requests on the fly and without the right tools is a time consuming and error-prone process.

With OnRAMP, you get custom analytics and reporting designed to provide the answers you need on an ongoing basis
Need to provide projected cash flows for your auto loan residual under various prepayment and default scenarios?
Need the latest stratifications of your mortgage pool?
Need to validate payments you're receiving from an investment?
Dealing with third-party data and need consistent reporting individually and across entities?
Just tell us what you need covered and we build out the report suite to do it.
OnRAMP's flexibility combined with our modeling expertise allows us to build out just about any analysis you can think of. And with OnRAMP your analyses are kept live so they always reflect the latest data. Plus you'll get a consistent look and feel across all of your reports and have access to them wherever you are via our secure website.
Keep your stakeholders happy. Give them the answers they need quickly, accurately, and consistently. With OnRAMP there's a better way.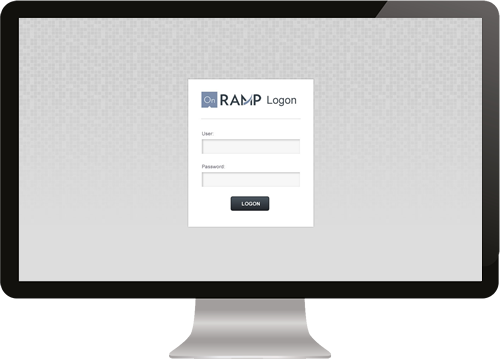 Tap Into Asset Technologies' Modeling Expertise
With 10 years of experience modeling complex transactions in a variety of contexts, Asset Technologies is an ideal partner for developing the report suite you need.
From Monte Carlo models for life settlement transactions to valuation models for railcar fleets, we've built our business around creating models, tools, and reports at a level of quality that sets us apart.
Having an OnRAMP subscription gives you access to these capabilities on an ongoing, low-cost basis.
Check out our Case Studies, Engagements and Testimonials pages to explore some of Asset Technologies' work.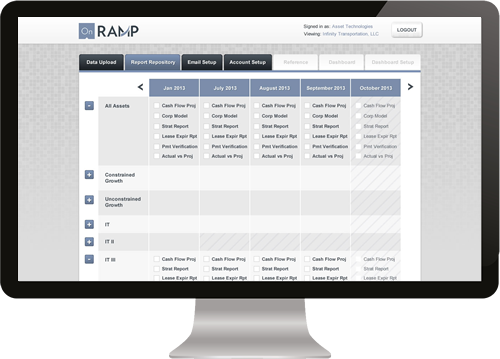 One Go-To Source for Information
An OnRAMP report suite provides you with a single source of information about your business. And with OnRAMP all of your reports are generated from a single data source so there are never discrepancies between the values they present. Your report suite tells a unified story that you can rely on.
And if you want to include any of your existing reports OnRAMP can do that, too. Just give us samples and we'll add them to your report suite so you can have everything you need in one easy to access place.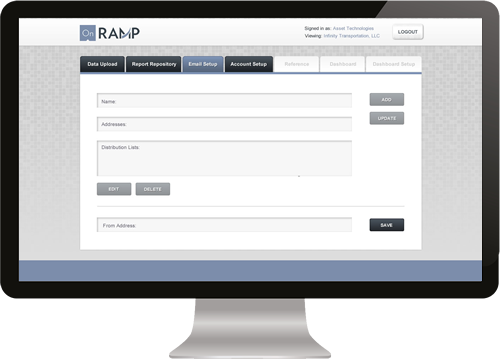 Avoid Wasting Time and Money on One-Off Projects
Having an OnRAMP subscription affords you the ability to recast one-off analytics projects as simple expansions of your report suite. Adding reports to your OnRAMP suite is easier, quicker, and less expensive than managing one-off projects. And with OnRAMP the results are refreshed every month so you never have to worry about their going out of date.
OnRAMP reports can be fully functioning Excel models so no matter how complex your one-off project is there's a good chance it can be implemented as an OnRAMP report. With a fully functioning model for a report, you maintain the ability to make changes on the fly right in each month's copy if you need to.