Features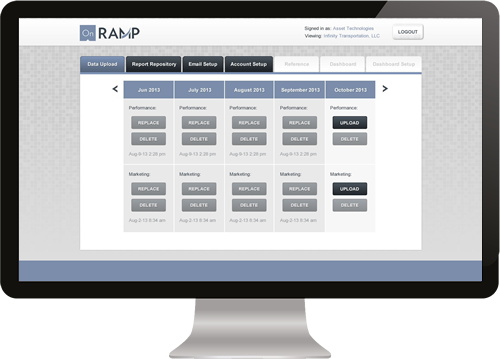 Security
Your data is one of your most valuable assets, so we give it the respect it deserves. The OnRAMP site uses only secure SSL encrypted transfers, from your data coming in to your reports going back out, plus every page in between. And all OnRAMP servers are hosted in secure facilities.
Disaster Recovery
With OnRAMP your reports are backed up to geographically remote third party backup servers for maximum disaster protection. Your reports will always be there when you need them.
Custom formats
With OnRAMP we can apply a consistent, professional look to your report suite. Your reports can include company letterhead, special graphics or logos, or even company colors on graphs and tables.
OnRAMP can produce your reports as pdf, xlsx, or any other file format you might need.
Access Your Reports Anytime, Anywhere
Because OnRAMP makes your reports available via secure web site, you can access them whenever you need them, wherever you are. If you have an internet connection you have access to all of your reports, both current and historical.
Built-in Report Distribution
With OnRAMP you can establish recipient groups for your reports. Using those groups, you can distribute any set of reports you want to the people who need them. Each person in your recipient groups will receive an email with the appropriate reports attached.